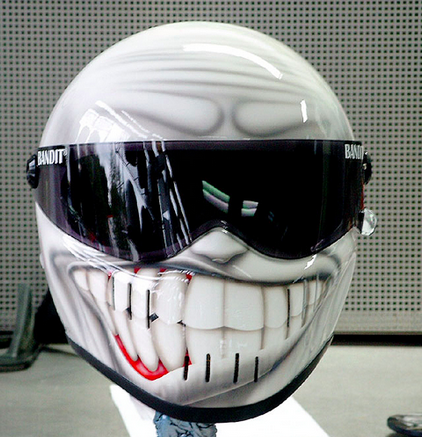 There are all kinds of standard motorcycle helmets out there, and plenty of companies that make them. Even though many of these standard helmets look good and are of high quality, sometimes you just want something that a little more uniquely.
In the following article, I am going to tell you about some of the companies that make customized helmets. Custom motorcycle helmets are designed and built according to the specifications of the individual wearer. Such customization jobs can be done on any type of helmet, from full faced helmets to open faced helmets.
How Can I Get Started?
Usually, such customization jobs start with the customer's choice of a solidly painted white or black standard helmet. The designs are then added to the helmet by either airbrushing or painting them on.
There are only a handful of companies, however, that will actually customize a motorcycle helmet for you. Some examples of those that do are the aptly named Helmet Store, and Helmet Guy. Some others are TC Specialized Graphics, Garcia Custom Airbrush, Iron Horse Helmets, Be Unique, Air FX, and Biker Needs.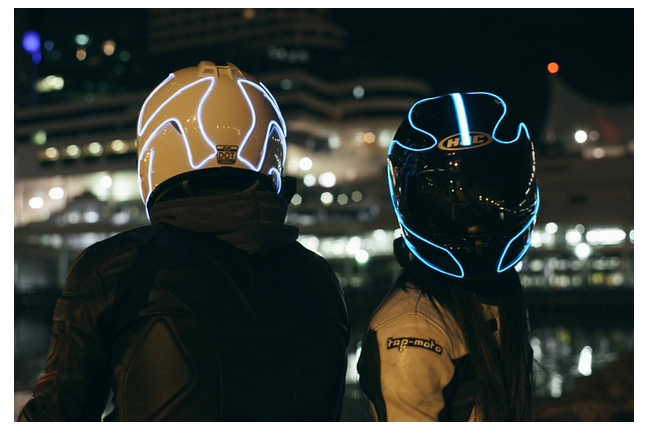 Does It Cost Much For A Cool Design?
The rates for these customization jobs are as different as the companies that provide them. On the high end, businesses such as TC Specialized Graphics make their customers pay upwards of $300 for even the simplest designs. With that price, however, comes reliability; based in Camichael, California, just outside of Sacramento, TC Specialized Graphics has been in business since 1993, and have been featured in magazines like American Roadracing, Roadracing World, and Cycle World.
Garcia Custom Airbrush provides their customers with many different design options which range from very simple patterns to more detailed ones such as "graphics", "flames", "ghost effects", "metal flake" and several others.
The cost for a job by these guys typically begins at about $225 and rises depending on the job. Based in Fort Worth, Texas, Garcia Custom Airbrush was founded by Everardo Garcia. He is a very talented artist with a degree in graphical design, and his shop does paint jobs for all kinds of things, from helmets to bikes to leather. They also do murals, portraits, and T-shirts.
If you're looking for something more reasonable, then you definitely need to check out Iron Horse Helmets. For $75 a pop, you can get them to print a design on the back of your helmet. Based in Birmingham, Alabama, Iron Horse offers their customers a wide variety of customization options and accessories that enable them to design a unique, one-of-a-kind helmet, while Iron Horse's close relationship with their shippers enable them have it quickly shipped to them at an affordable rate.
Be Unique will do all kinds of custom airbrush jobs for you for prices that start at $150. Based in Coconut Creek, Florida, Be Unique was established by Rick Corgon. It has won numerous awards and has been featured in many bike shows all around the country.
Air FX is going to be offering their high-quality custom airbrush jobs at a discount until April 30th of 2006. Located in Norwich in the UK, Air FX does all kinds of custom airbrush and paint jobs, which include helmets, motorbikes, cars, jet skis, scooters, and side cars.
For custom paint jobs at a discount, you definitely should check out Unexpected Custom, where you have the option of either having them create a one-of-a kind design for you, or sending them your own ideas, drawings, pictures, or graphic designs and having them replicate it on a helmet of your choice.
The Final Thought
Standard motorcycle helmets only come in styles and designs that are predetermined by their manufacturers. Companies like those listed above exist to provide a way for us to have bike helmets that are as unique as our own personalities and tastes. With the wide array of options that they have for us to choose from, these businesses make it easy for us to create one-of-kind pieces of wearable artwork that reflect our individuality,
You can find a wealth of information on custom motorcycle helmets, as well as motorcycle helmets in general, where to go for a discount on them, and the laws governing them, at Unexpected Custom, which is related to Bike Jackets.